WHMIS Labels Overview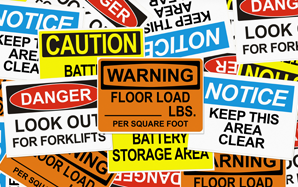 According to the Workplace Hazardous Material Information System (WHMIS) law in Canada, all controlled products, or products that are potentially hazardous, have to be labeled with special WHMIS labels. These labels clearly signify that the products carry potentially hazardous material, and they provide every person who gets in contact with the product with clear and precise information on how to safely handle the product in order to stay unharmed, or how to use first aid in case of emergency.
The Controlled Product Regulations page contains criteria that define controlled products. Some of the potentially hazardous products are: compressed gas, oxidizing material, any poisonous, flammable, infectious substance, etc. You can check out the complete list at the official Canadian Centre for Occupational Health and Safety website: http://www.ccohs.ca/oshanswers/legisl/msds_lab.html.
Every WHMIS label comes with a Material Safety Data Sheet (MSDS), which is a bulletin that contains info about chemical, physical and toxicological characteristics of each controlled product. These data sheets also provide controlled product handling instructions and precautionary measures. WHMIS labels MSDS bulletins are required by law. The company that buys and uses controlled products receives WHMIS labels and MSDS for each product, and the MSDS's have to be easily accessible to every employee.
The WHMIS law was created in order to make information about health hazards and safety measures transparent to all employees. Workers are exposed to all kinds of potentially dangerous materials, some of which can cause serious health problems, injuries, and even fires and explosions. The employees have to know how to protect themselves.